PaydaysOnline.com Answers Frequently Asked Questions (FAQs)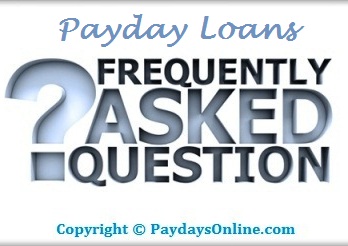 Ques: What do you mean by payday loan, Cash Advance or Paycheck Loan?
Ans: A Cash advance or payday loan is an unsecured loan. One can use payday loans to come over the current financial crisis mainly due to some unexpected or accidental incidents. As payday loan providers require a postdated check this is also known as Paycheck Loan. These short term loans are comparatively smaller loans which will be an amount between $100 to 1000. Most often such loans are taken to cover smaller or minute expenses which are totally unforeseen and unexpected.
Ques: How do I qualify for a payday loan?
Ans: PaydaysOnline.com considers a few points to determine one's qualification. These are far easier than traditional qualifying methods of credit. Most importantly PaydaysOnline.com does not count your credit- records. We consider your occupation/ profession and your previous paycheck acts as your guarantee.
In order to qualify one simply need to meet the below requirements:
Have a regular income source or a current job.
Earn $ 1000 every month exclusive of all taxes.
Be a U.S citizen of above 18 years of age
Have a savings account in own name with direct deposits.
Ques: How long is the payday loan process?
Ans: For normal process it is only few hours. in most of the cases the applicant(if approved) receives the amount within few hours after the approval. In some rare cases the amount will be deposited on the next business day.
The length of the process invariably depends on the time of your request. Requests on the early business hours get the amount within hours and the late- business hour applications may have to wait for the next working day.
Ques: How do bad credit, NSF's, charge-offs or a bankruptcy affect the qualification?
Ans: Paydays Online does not consider previous bad credits. So you need not worry over your previous bad credits. It won't affect you much. Proclaimed bankruptcy can affect your qualification adversely.
Ques: What is the required security to receive a payday loan?
Ans: PaydaysOnline.com demands no further security than your current job status and your paycheck.
Ques: Is direct deposit required?
Ans: Yes. We require the applicants to have a direct deposit account. Payday loans are offered on the security of your paycheck which is directly deposited. This is considered as one of the most secure ways to offer payday loans quickly.
Ques: What about application fee?
Ans: There is no application fee at all. PaydaysOnline.com never charges any fee on Payday loan applications.
Ques: How far my financial information and application are secure?
Ans: They are absolutely and 100% secure. PaydaysOnline.com respects each one's privacy policy in managing their finance. We use all necessary measures to maintain safety and security of your personal information. We use 128 bit Secure Socket Layer (SSL) encryption technology to assure 100 % security to your information.
Ques: How often can I use payday loan?
Ans: Payday loans are meant to meet your unexpected and unforeseen financial crisis which fell on you. It should be used only to meet the urgent needs lest you are sure to fall in greater financial crisis.
PaydaysOnline.com does not support repeated use of payday loan service because such repeated actions can cause severe damage to your financial stability.
We suggest you to follow the money management systems to eliminate your debt. For further help on money management you can contact the National Foundation for Credit Counseling at 1-800-388-2227.
Ques: How do you determine the limit for payday loan?
Ans: As per the state regulatory law the limit falls between $100 and $500. Besides one capacity to pay back and current income are taken in to consideration in determining the maximum reach.
Ques: How the repayment fee is determined?
Ans: PaydaysOnline.com relies on very competitive fees which strictly comply with all applicable laws of the state and federation.
Ques: Why Loan Agreement includes a lot of information?
Ans: Loan Agreement is a legal contract which you enter with the payday service provider. So being a legal contract it has to be in compliance with the laws of the state and federation.
Loan Agreement thus includes the payday advance terms, the amount used as service charge both as a dollar amount and as APR (Annual Percentage Rate).
Ques: How fast should I have to pay the loan back?
Ans: Payday loans are short term loans and so you need to repay the loan as fast as possible. One has to repay the payday loan on the next payday.
Normally such loans follow the standard time which is neither less than a week nor more than eighteen days. You are left free to repay the loan at any time in between this period, without any prepayment penalties.
Ques: What if I fail to repay the loan by the due date?
Ans: PaydaysOnline.com offers various repayment options to our customers for avoiding any undesirable failure in paying the loan back by due day. You can follow the given – below tips to avoid the failure in paying back the loan by due date.
Pay back the loan in full on the particular maturity date as per loan agreement*.
Pay back the finance fee along with a portion of the principal amount on or before the mentioned maturity date*.
Pay the prescribed finance fee without principle amount on the mentioned maturity date*.
Note: Have a proper enquiry with your loan consultant about all of the repayment options as some additional terms and conditions are applied *.